Module mounting structures for Solar PV systems are designed to maximize the generation with its optimal tilt while also ensuring that they are capable of withstanding prevalent weather conditions. Other than these, U-Solar offers customized mounting structures for its installation with a complete study on load bearing capacity of the building while also considering the aesthetics and functional aspects of access to roof area.
Example : In facilities where the flat roof area is covered with chillers and other HVAC related equipment, our structural offerings can allow for the mounting structures to be raised in order to facilitate the access to the rooftop space while also being able to use the area for PV installation.
Find pictorial representations of these mounting structures from our installations below!
Our customised offer for mounting structures include:
Grout less and grouted structures
Special structures for industrial rooftops, sloped roof etc
Light weight and rust proof structures
Robust structures to withstand high wind speeds
Parking canopy structures (Car parks as mounts for Solar PV systems)
Grout-less
Grouted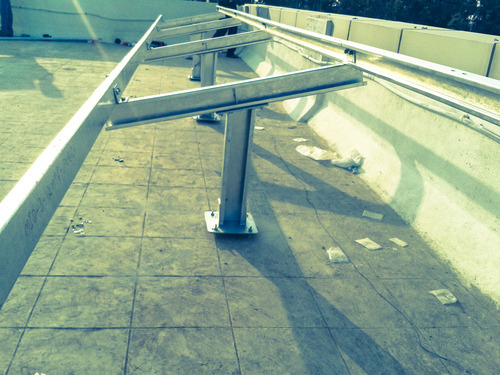 Sheet Roof
RCC Elevated
Custom Elevated
Slope Roof Elevated